Even when it comes down to making a few design changes for a workplace, the decision-making can run into a fourth wall. The last thing you need to do is generalize your office design decisions. It doesn't hurt to check the newest trends and best design practices for your office. Though in the end, design your workplace in a way that complements your employees and brand image.
The design of your office space should be flexible and spark relaxed culture. Since the pandemic, many companies have continued redesigning their office spaces to empower employees. Companies now prefer a more modular and compact workplace design rather than a rigid and tight space.
Oftentimes, business owners reach out to professional and experienced architects or reputable design agencies to revitalize their office space. Despite the needs and requirements of your office space, focus on the design elements to boost the creativity and productivity of employees without compromising their well-being.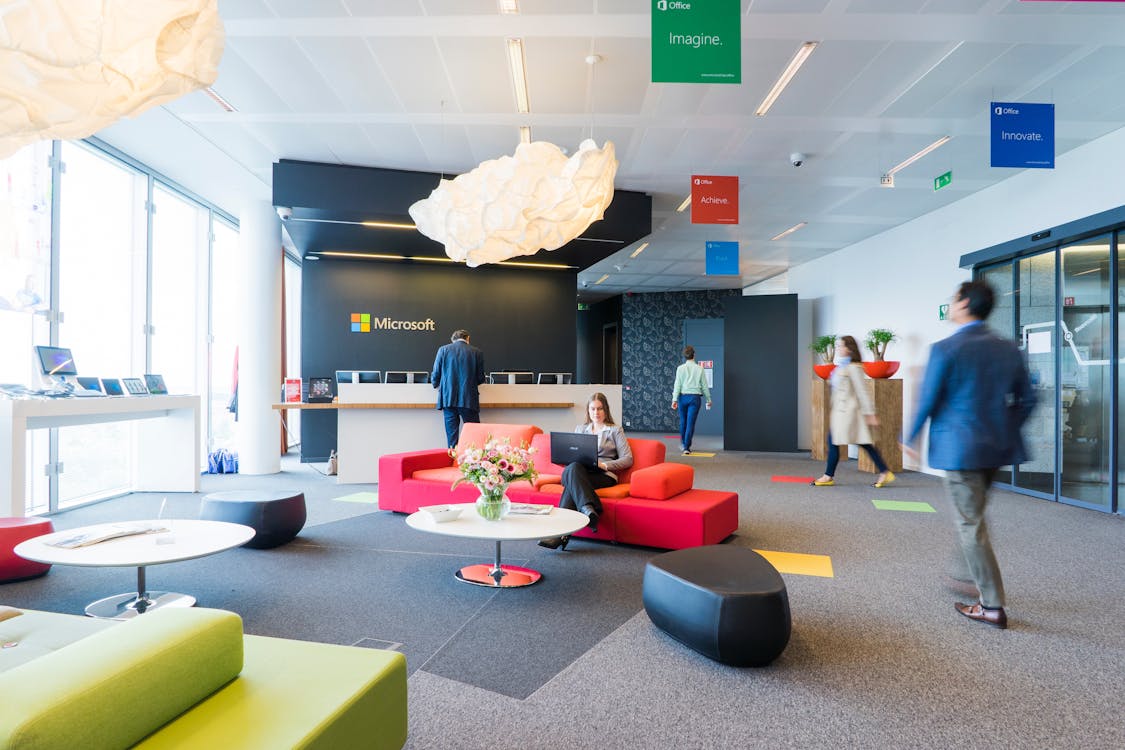 Nitro Cold Brew - the added touch for your new office to connect and engage employees 
Design for Flexibility and Agility
Designing a flawless office design that lives up to modern design may sound too complicated. But it is no rocket science – all you have to do is design your office space with flexibility and agility in mind. Not too long ago, conventional office spaces ruled the world.
But today, businesses face different challenges that require different office styles and design changes. Since the adoption of the remote/hybrid work model, companies want to design office space that can support their in-office and remote employees at the same time.
At its core, the design of your office has to be purposeful and tactful. For starters, you cannot bring furniture that would only get in the way of employees being more productive.
So, no matter how beautiful and expensive items you buy for your office – ask yourself: would it make the office space more productive and drive innovation? Designing a "perfect" office is all about having an adaptable office space that supports a diverse range of employees.
Thinking of an office redesign? Bring in CWJ's Nitro Cold Brew to boost socialization and productivity. 
Design Workspace Based on Activity Model
ABW or activity-based model is a real thing, and it helps companies understand their design needs and what would appeal to "their" employees. For instance, companies can design their office workspace for extroverts, introverts, or both.
But whether you design office space for introverts or extroverts, consider collaboration so that the work environment is interactive and helps employees learn new skills or master existing ones. In this approach, you have to approach your design as a learning zone where colleagues can work and hang out over coffee breaks.
Like big companies, you can create a small social zone where employees can socialize. Modularity is all about flexibility and adaptability. It means understanding the work style of Gen Z and millennials and then designing a dynamic workspace. Like a social zone, you can also create a silent area where employees would come in not to get distracted or disturbed to meet tight deadlines.
Intuitive and Innovative Office Space Design Ideas
Now, let's take a look at the most effective and impressive design elements you can bring to your office environment:
Get More Natural Light
Employees spend a lot of days indoors, and the workspace often doesn't have enough or no natural light. So, install new windows for more natural light during the planning process. A poll confirms that the majority of employees want direct access to natural light in their office environment.
Natural light deserves consideration when designing an office workspace. Natural light optimizes the workspace and makes it look more attractive. You can also make a glazed partition to filter the natural light throughout the office.
Optimize Office Space
It takes a progressive approach to render a great office experience, and optimizing the workspace is the way to go. Start by reviewing your current workspace structure and layout plans. Make sure there are dedicated workspaces for collaboration, relaxation, and concentration.
Design and bring in corridors within crannies and nooks that are not used at all. Use spaces that ordinarily you wouldn't and use them to make the office more functional for the next generation of employees. You can assign separate meeting spaces, huddle booths, and private pods.
Fortune favors the bold, and CWJ's Nitro Cold Brew is bound to transform your workplace.
Remove Harmful Sitting
It is no secret that sitting for long hours causes heart disease and can trigger serious health issues. Ordinarily, employees working in a 9 to 5 job stretch their legs and arms after sitting long hours. So, don't encourage employees to sit for extended periods that can compromise their health and well-being.
You don't have to make drastic changes – simple design changes would make a big difference. For instance, you can get standing desks that improve employees' posture. And most importantly, it would propel employees to not sit for long hours.
Like ergonomic chairs, office stand-in desks are revolutionizing workspaces. Besides, it makes sense to give employees more than one sitting option. And having sit-and-stand choices give employees more wiggle room to move around the workspace and avoid cardiovascular, diabetes, and other health issues. It is an expensive change but worth it as long as you care about the well-being of your employees.
Improve Natural Ventilation and Bring in Fresh Air
You'd be surprised how many companies have poor ventilation and a lack of fresh air in their work environment. After improving natural ventilation and bringing more fresh air into the office space, employees will be able to breathe more fresh air, which will trigger their brains to be more relaxed and productive.
The truth is that more fresh air would help employees concentrate, focus, and think better. Scientifically, more fresh air elevates serotonin in the brain and creates a sense of satisfaction and happiness in the workplace.  
Check the Level of Comfort in the Office Space
For every design change, check if it increases or decreases the comfort level of employees in the workspace. Focus on the design elements that can make the workplace highly comfortable. You can bring in colorful chairs, tables, and sofas where employees can work and unwind at the same time.
One of the secrets to ensure employee satisfaction is to have a dedicated hub for Nitro Cold Brew. 
Use Various Colors
Color can change the outlook of your entire office environment. Color is also "the" design element that makes a huge first impression. Ideally, it is better to use soft and vibrant colors to improve focus and concentration, and the creative drive of employees.
Usually, traditional offices use similar colors for chairs and furniture and don't care about having a soft color palette. Once you get rid of outdated and dark colors from your office space, you'll notice an increase in productivity and an improved mood in employees. You can also use different fabrics, styles, and finishes for office chairs to render a more fun and inviting vibe around the office.
Add Modern Elements
Like chairs, you can bring in sofas and bean bags for employees to work and relax. In modern-day workspaces, you should make tech-drive design choices. You can create workspaces with plug-and-play support. It may be overwhelming to keep up with changing tech trends. You should focus on tech tools and solutions to make the office more functional, spacious, and vibrant for employees.
Biophilic Workplace
Unlike stand-in desks, getting plants is arguably the most inexpensive way to spark new life into your office space. Having plants in the office reduces stress and improves the lung health of employees. In the presence of plants, studies show that employees work faster and maintain high standards.
Mostly, plants are a great source to bring fresh air into the office environment. You can get snake plants, spider plants, peace lilies, and English ivy to improve employees' mood, which will lower their stress levels. Biophilic office design is not a new idea. Still, as the work environment has become more competitive and requires consistent productivity, the next generation of employees wants to be close to nature, and plant life improves the air quality and office aesthetics simultaneously.
Final Thoughts
Layout, structure, light, color, internal climate, and sound make up the aesthetic of a workspace. In fact, these are the elements that directly influence the engagement, satisfaction, and productivity of employees. Sure, for decades, the domination of cubicles was unchallenged. But it's (almost) 2023, and you can no longer hold onto traditional office cubicles.
You have to adapt to new ways employees want to work and thrive. If you want to dominate the competitive market and attract the best talent in the job marketplace, design a transformative workspace. Consider employee engagement and collaboration styles when you design a modern office space.
Every change has a cause and effect when designing office space. You can experiment with office design elements as long as the changes align with your company brand. Browse some incredible and breathtaking office designs for reference. In retrospect, office design should be flexible and inspire employees. It should have a chill vibe, but to the point it propels employees to be productive and creative.
Designing office space is an opportunity to bring in new elements like CWJ's Nitro Cold Brew!
By: Brandi Marcene